Welcome
to the home of the Sunshine Golden Age Garden Club.

The club was founded in 1921 as the Sunshine Horticultural Society and continues to meet regularly. Our aim is to create a convivial social atmosphere which fosters the pleasure of sustainable home gardening and improves the skills of the amateur gardener.
---
A typical monthly meeting...
centres around a guest speaker followed by supper. Members can, and do, have a cuppa at any time. Meetings take place in first class community facilities generously provided by Brimbank City Council. There is ample parking and disabled access.

The ingredients that make up a typical meeting are:
The monthly newsletter
Distributed free to members at the start of the meeting.
Gardening problem solver session
Here members can ask questions and get advice on how to solve their gardening problems.
A guest speaker
The club works hard to find engaging and knowledgeable guest speakers on a wide range of topics ranging from the cultivation of particular plant species, to floral art design, to local history - and everything in between.
The competition table
Provides a showcase for members to exhibit flowers, succulents, vegetables and other plants from their garden as well as flower arrangements and other floral art creations and handicraft items. The best exhibit wins a prize and an award.
The trading table
Is crowded with plants and cuttings donated by members for sale at bargain prices.
Raffle
50c a ticket gives you a chance to be a lucky prize winner.
Supper
The evening finishes with a mouth-watering supper of savouries and sweets.
Annual membership subscription
$2 per year. The cheapest subscription of any garden club in Australia!
Where and when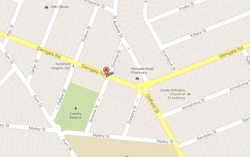 Click to enlarge
Meetings are held on the second Wednesday of every month (except for January) at 7.30 pm in the Glengala Community Centre (Castley Hall) at the corner of Glengala Road and Simmie Street, Sunshine.
---